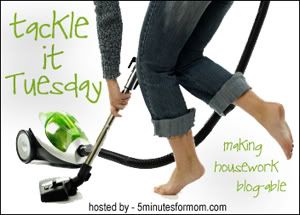 Today is Tackle it Tuesday.
I am going to tackle the mountain of laundry. I have a ton of laundry to work on. I just wasn't in the mood yesterday.
Our house is for sale and I am trying to keep it clean...which isn't too hard since I am home for the summer. But, I get tired of the laundry. I keep thinking one day someone will invent throw away clothes. The kind that look great and doesn't cost much since you are throwing them away when the day is at end. Will not harm our planet. I guess that will disapear like on the t.v. show I dream of Jennie. I think I must be in dream land. LOL
What are you working on today?
For more on Tackle it Tueday hosted by 5 minute moms visit
here
.